Real Estate Law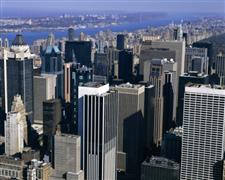 The firm's real estate practice encompasses various types of real estate transactions, including commercial leasing, purchases and sales of residential and commercial properties, 1031 tax deferred exchanges, and real estate financing, including mortgage loans and co-op refinancings.
As counsel to landlords, businesses, co-op housing corporations and condominiums, we negotiate and prepare capital improvement contracts, management and license agreements, brokerage and warehouse agreements, and other agreements with contractors, architects, suppliers and construction managers. We have restructured loan workouts, appeared before municipal agencies, and resolved disputes between unit owners and the board of managers or the board of directors. We advise clients in connection with third parties disputes and seek to resolve them in an amicable fashion, if possible, while zealously advocating and protecting our clients' interests.
WPAT-NY Radio Interview with Elise Liebowitz
We represent sophisticated owners, landlords, financial institutions, cooperative housing corporations, and tenants. We have successfully concluded hundreds of leasing transactions, negotiated and closed financings and refinancing of mortgage loans, sales and acquisitions of commercial and high end residential real property, including 1031 exchange transactions, and co-ops, condominiums, and townhouses. We have closed real estate transactions as part of corporate transfers involving the sale of businesses, including the sale of assets and stock purchases. We have represented landlords in real estate, corporate, litigation, contract and administrative law matters.
Representative Corporate Transactions and Acquisitions:
Represented purchaser of building and leases within a shopping center mall with ongoing retail store operations.
Represented seller in negotiating stock purchase agreement and renegotiated lease in connection with sale of a multi-million dollar food company.
Represented seller in connection with the sale of an eight apartment buildings complex with amenities.
Closed multi-site real estate transactions in connection with a corporation's acquisition of various real estate pursuant to the asset purchase agreement.
Closed transfers of land, buildings and leases.
Representative Mortgage Loans:
Closed more than thirty (30) mortgage loans for buildings on Park Avenue, Madison Avenue, Fifth Avenue, etc.
Represented financial institutions, as lenders.
Represented hard money lenders.
Represented borrowers of commercial and residential properties.